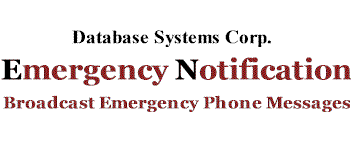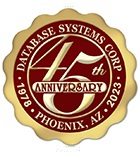 Emergency IVR Solutions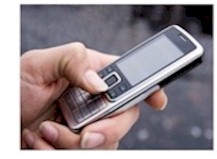 Emergency interactive voice response (IVR) solutions include automated emergency answering systems, call processing and flow control software, and emergency IVR hosting services. These solutions are provided by DSC (Database Systems Corp.). DSC is a leading provider of advanced custom IVR solutions and can design, develop and implement simple to complex emergency applications for your organization.

DSC IVR phone systems incorporate the latest technologies from Intel, Dialogic and Microsoft Corporation. The telecommunications boards are Dialogic IVR control boards and handle the call processing elements of these phone systems.

The use of IVR (Interactive Voice Response) during an emergency is a highly effective tool when mass communication is required and limited human resources are available. Automated emergency messages can be delivered when an emergency response center is unavailable or has limited personnel. Community alerts can be sent with sufficient information provided to call recipients. The most frequently asked questions could be programmed into the IVR. More complex call requests can be routed to an operator.

Using IVR technology, a call processing system can be a force multiplier for an emergency call center. The IVR can provide more information to more callers in less time. A consistent and standard message can be delivered, minimizing confusing instructions.

Contact Us Today to learn more about our emergency interactive voice response services and phone systems.


---
Emergency IVR Technology
DSC provides IVR solutions to many business and community organizations. Here are the different types of IVR solutions available today.
To deliver phone applications and services, DSC has developed two series of interactive voice response systems, the WIZARD analog and the PACER digital phone systems. These systems are provided to our clients who wish to purchase their own system. They are also used exclusively at our own call centers for processing inbound call applications.

Our WIZARD phone system supports 4 to 48 analog phone lines. The PACER system supports 24 to 480 digital phone lines. These systems can be networked to provide a far greater number of digital lines.

DSC provides a comprehensive interactive voice response software library of routines that can be called using most modern computer languages.

Our IVR software uses voice recorded prompts and menus to present information to callers. Touch-tone telephone keypad entries are gathered from the caller to collect information and to provide navigation through simple to complex IVR menu structures. Our IVR software provides information back to the caller in the form recorded messages or data converted using text to speech. The IVR can also route the caller to an agent or transfer the call to an outside phone number or extension.

Our experienced staff of IVR developers can analyse your phone application and develop a calling campaign that meets your objectives. Your unique calling answering campaign does not have to conform to a static IVR solution. An IVR designed by our professional programming staff will process inbound phone calls according to your business rules.

From external database access to web integration including XML messaging, DSC can develop your information phone applications and host them at DSC's interactive voice response service center.

DSC can analyse your phone needs and design it to meet your requirements. Our interactive voice response application will answer your calls according to the rules dictated by your business.

IVR Project Phases

Database Systems Corp. developers adhere to the systems approach when creating IVR applications for our clients. The following are the basic development steps performed by our experienced management and development team:



Database Systems Corp. maintains a secure data center where we provide IVR solutions for our clients. Using our own IVR phone systems and software, DSC is ideally positioned to provide a comprehensive and affordable IVR solution to virtually any size organization.

Our hosted IVR service processes incoming 800 number phone calls by providing callers with a menu of selection items from which to choose. Caller requests can be handled automatically by our phone service or the calls can be routed to your own representatives.

DSC provides phone services including IVR outsourcing and voice broadcasting service at our own managed call centers.

These centers provide secure and redundant enviroments for the maximum protection of our outsourcing clients. From small calling campaigns to projects that require broadcasting millions of calls, our call outsourcing center can do the job!

For a listing of some of our applications and clients, please visit our phone applications web page. DSC markets a telephone reassurance program called CARE (Call Reassurance) that utilizes our IVR technology.
---
Outbound Emergency Messages With IVR
During certain emergencies, an outbound IVR can be employed within the process of delivering phone alert messages. Dispatch operations can be automated whereby an emergency alert message can be sent to first responders informing them that an event has occurred that requires attention. A member or organization contacted in this manner can be provided with the option to acknowledge the call and provide an availability status. Likewise, the call can be transferred to a dispatcher if necessary.

The general public can likewise be called during an emergency using a community alert system with IVR. In the event of a disaster, a large emergency broadcast can be initiated contacting the public with information about the disaster or event. If an action is required of the public, such as the evacuation of a neighborhood, information can be provided to the resident in the message. Likewise, if the resident requires special assistance, the call can be routed by the IVR to an emergency call center.

In a related non-emergency service, IVRs can be used in systems that contact the elderly or homebound residents. Referred to as RUOK (Are you OK), this program automatically calls members who subscribe to this service every day, ensuring their well being. The resident acknowledges the call by simply answering the phone or by pressing a touch phone key. If the call is unanswered or unacknowledged, a family member or community service group can be automatically alerted by the phone system.
IVR Information
For further information about interactive voice response technology as provided by Database Systems Corp., please visit the following webpages on www.custom-ivr.com.
Additional Information
Contact Us Today to learn more about our emergency IVR systems and services.