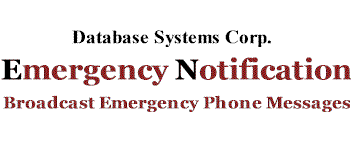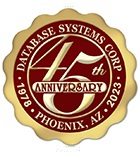 Emergency XML Messaging
DSC (Database Systems Corp.) is a leading provider of community notification systems and emergency alert outsourcing services. Emergency phone messages can be automatically sent from a computer system using our emergency XML push software. Likewise, our emergency phone systems can automatically access information from networked computer systems and web servers using voiceXML pull and web information retrieval software.

Automatically send emergency warnings to administrators or emergency response personnel based upon an external event such as weather alerts. These alerts can be automatically initiated from a remote computer system or website. Other emergency alerts may be generated whenever a power or system failure is detected.

Using an XML protocol, emergency applications can be easily developed that send messages to our emergency broadcast systems to perform the required phone messaging campaign. This could entail sending a single message to one phone number, several phone numbers, or to an entire community.

The emergency contact message can be sent in the form of a wav file or a text file that is automatically converted using our text to speech software. Several voice wav files can be designated in the XML push message, providing the maximum flexibility in this environment.

Contact DSC to learn more about our emergency voice messaging systems and services.
Managing Emergency Message Calls From Your Smartphone
DSC now lets you manage your emergency notification calling campaigns using your Droid and iPhone smartphones. The following easy to use functions are available to smartphone users.
Login to your account
Select a list of phone numbers to call
Select saved recordings to broadcast
Record messages by calling our service
Start and Stop a voice broadcast
Monitor the voice broadcast in progress
This smartphone application lets you manage any number of emergency broadcasts using simple phone commands. Contact DSC to learn more about this simple way to control your emergency broadcasting and to obtain a copy of this smartphone application.
---
Envirocon, Inc.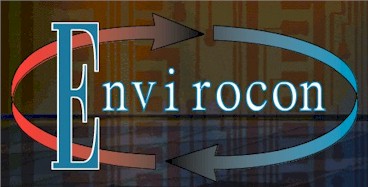 "Envirocon, Inc has worked in the building automation industry for over 25 years providing total solutions that respond to the customers needs and work within the budget constraints provided. Envirocon specializes in offering the following services for the commercial, industrial and residential markets. Temperature control systems complete with Web access to allow the site owner to adjust and control their building remotely." - www.envirocon.net

Envirocon utilizes our emergency phone dialer to broadcast emergency evacuation notifications to tenants of its buildings. Using its sensors and telecommunications equipment that are located within a building, Envirocon initiates an emergency broadcast using our message broadcasting services whenever its sensors detect a fire.
---
Types of Emergency XML Message Campaigns
Simple XML Push Voice Broadcast - This is a basic message which includes a simple text message (or wav file) and a phone number to call. The call can be to an individual or answering machine, or both. This voice broadcast technique could be useful when you wish to simply provide information or announce an event, provide a reminder, or request an action from the contacted individual.



Multiple XML Push Voice Broadcast Messages - This is similar to the Simple XML Push Voice Broadcasting but more than one phone number can be designated to receive this message. Likewise, the XML message could designate a specific list that is currently maintained on the phone system to be used by the dialer. This technique could be useful when you wish to perform targeted messaging or if you want to provide emergency notification to a department or group.



XML Messaging and Touchphone Response - This method expands the prior call technique by playing a message that gives the contacted individual options from which to select. Using touchphone responses such as "Press 1 for...", the choices could include obtaining additional information, leaving a voice message, or terminating the call. A different message can be left on an answering machine or the answering machine could be ignored completely. Although more complex than the prior call types, this form of call broadcast dialing allows the called individual to make choices when receiving the message.


XML Automatic Voice Broadcasting and Call Transfer - This is similar to the prior call technique but with the option to transfer the call to a third party. Again, using touchphone responses the contacted individual can request that the call be transferred to an outside agent. The phone system dials another number and when contact is made with the third party or different phone system, the call is transferred. This is effective when the transfer party or organization is remote or not directly connected with your phone system and center.



---
Additional Information
Contact Us Today to learn more about our emergency notification systems and services.