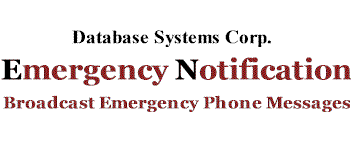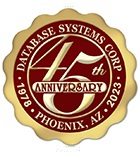 Emergency Response Solutions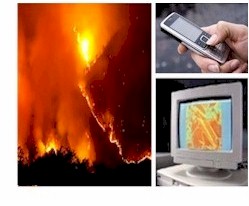 DSC (Database Systems Corp.) is a leading provider of call processing technology including emergency response phone systems and service.

When an emergency confronts your community, our emergency alert phone systems can deliver volumes of calls in a fast and efficient manner.

In the event of a natural disaster such as an earthquake, wildfire or catastrophic flood, our emergency alert service can notify your community quickly and give specific instructions.

If an evacuation is required our emergency response and alert system can deliver the available routes. If a biological or chemical spill occurs in your community, we can target specific areas to call. In the event of a severe snow storm, your community can be alerted to school closings or event cancellations.

This emergency response service is possible using technology developed by Database Systems Corp. We provide both emergency broadcasting service as well as emergency notification systems.

Contact DSC for a FREE analysis and quote and to learn more about our emergency telephone warning systems and services.
Managing Emergency Calls From Your Smartphone
DSC now lets you manage your emergency notification calling campaigns using your smartphone. The following easy to use functions are available to smartphone users.
Login to your account
Select a list of phone numbers to call
Select saved recordings to broadcast
Record messages by calling our service
Start and Stop a voice broadcast
Monitor the voice broadcast in progress
This smartphone application lets you manage any number of emergency broadcasts using simple phone commands. Contact DSC to learn more about this simple way to control your emergency broadcasting and to obtain a copy of this smartphone application.
---
Adams County Memorial Hospital
"Adams Health Network is committed to meeting the health and wellness needs of individuals by providing a continuum of personalized programs and services. The Adams Health Network (AHN) and its members are organized and maintained to provide the best possible care to meet the needs of its service community. The AHN recognizes that health care is provided on a continuum from optimal wellness to death with dignity. The AHN accepts the commitment of assuming a leadership role in the local health care community." - www.adamshospital.com

Adams County Memorial Hospital chose Database Systems Corp. and our employee alert service to provide internal phone notification for its employees in the event of an emergency. When individuals are contacted, they are required to acknowledge the call through touch phone responses. If an answering machine is detected, a detailed message is left on the machine..
---
Register Online and Save!
DSC now provides an online signup for both non-profit and business organizations wishing to use our emergency voice broadcasting outsourcing services. Signup is easy and can be accomplished in just a few minutes! Our competitive rates are affordable, even for the smallest calling campaign.

Start Calling In Just Minutes!. Using our new online signup lets you get started immediately with your calling campaign. Simply create an account and agree to our standard terms and conditions. Then download your list of phone numbers and record a message. We accept major credit cards and for as little as $25, you can begin calling. Its that simple!

Both emergency and non-emergency voice broadcasting services can be provided by DSC.

To register online, click on the the online registration image or button on the right.

Contacting members of your community or business could never be easier using our automated emergency phone tree service! DSC provides an online signup for non-profit organizations such as churches, schools and government organizations.

Setup fees are waived and the basic monthly fees are reduced if you use this convenient method of online registration.
Emergency Response Service Operation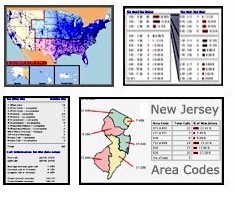 Once you have registered for our emergency alert services, simply perform the following functions to activate an emergency notification calling campaign:
1. Record your emergency message - either offline or use our 800 phone service to record your message.



2. Identify your call recipients - Use our simple list manager or a graphical map to display and send us your phone numbers via the internet. You can also select lists to call by phone using touchphone responses.
That's it! We do the rest.

Unlike some systems that are limited by the number of lines available in a single system, our service is provided to you using a network of phone dialers that can deliver your emergency messages much faster. Our emergency phone dialer delivers messages to individuals or answering machines and can even allow the call recipient to make touchphone selections. This may be critical if your response center requires a positive acknowledgement from the call recipient.

Additional Information
Contact Us Today to learn more about our emergency broadcast systems and services.