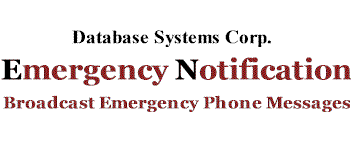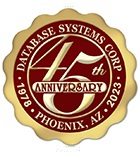 Emergency Mass Notification Services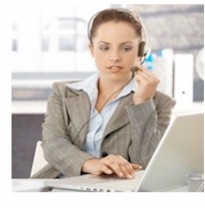 911 Broadcast is the emergency broadcast service division of Database Systems Corp. (DSC), a leading provider of computer telecommunications equipment.

Mass notification systems are emergency phone dialers that provide immediate alerts and warnings to your community in the event of a disaster. DSC provides the most comprehensive phone solutions and emergency services for the emergency broadcast industry.

Whether you need to purchase your own emergency phone dialer or utilize our emergency dialing service, you can rely on us to deliver your mass notification messages.

When an emergency situation arises in your community such as a severe weather condition, our phone systems and service can contact your residents quickly and efficiently. Should a disaster such as a forest fire or chemical spill threaten your residents, we can provide community notifications and evacuation instructions immediately.

Plus our mass notification dialers can connect calls to members of your emergency response team who are working at home or in remote locations.

Contact DSC to learn more about our emergency alert systems and mass notification services.


---
U.S. Post Office

The United States Postal Service® is an independent establishment of the Executive Branch of the United States Government. It operates in a businesslike way. Today, the Postal Service™ delivers hundreds of millions of messages each day to more than 141 million homes and businesses.

The U.S. Post Offices in Columbus Ohio utilizes our 911 emergency broadcasting services to contact postal employees in the event of an emergency. Emergency phone messages are sent to employees notifying them of a facility shutdown or other emergency situation. Messages also are sent informing employees to contact their emergency center 800 number for specific information and instructions.
---
What Is Mass Notification?
The DSC mass communications phone dialers call numbers from a computer managed phone list. If the phone system detects a live person or an answering machine, it plays a recorded message providing details regarding the emergency. If a busy signal or no answer is detected, the phone system can be configured to make multiple attempts to contact this household.

Mass notification messages delivered to residents can provide an option for the call recipient to speak with a member of your emergency team by simply pressing a button on the phone keypad.
Additional Information
Contact Us Today to learn more about our emergency notification systems and services.



Emergency Broadcasts
Emergency Alert
Emergency Notification
Emergency Warnings
Community Alert System
Emergency Messaging

Emergency Related
Emergency Response Systems
Emergency Contact Systems
Mass Notification
Emergency Dispatch
Emergency Communication
Emergency Management

Disaster Alerts
Severe Weather Warnings
Hurricane Warnings
Forest Fire Warnings
Blizzard Warnings
Tornado Warnings
Flood Warnings